Predictive Fleet
Maintenance Software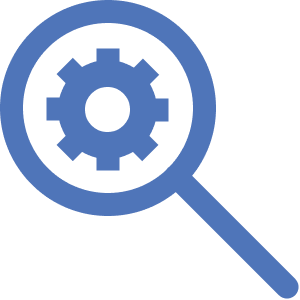 Predictive Fleet Maintenance Software with Pitstop
Improve uptime and overall efficiencies with predictive fleet maintenance. Pitstop's proprietary predictive algorithms detect vehicle breakdowns weeks in advance with over 94% accuracy. Better yet, there is no additional hardware needed.
Streamline Operations and Maintenance
Based on vehicle health insights, a fleet manager is alerted such that preventive maintenance work could be undertaken to avoid on road breakdowns and high maintenance expenses. Pitstop's predictive algorithms range from:
Predicting component failures such as diesel exhaust fluid, engine, brakes, battery, and more);
To prioritizing and ranking all your vehicles;
To vehicle health scores.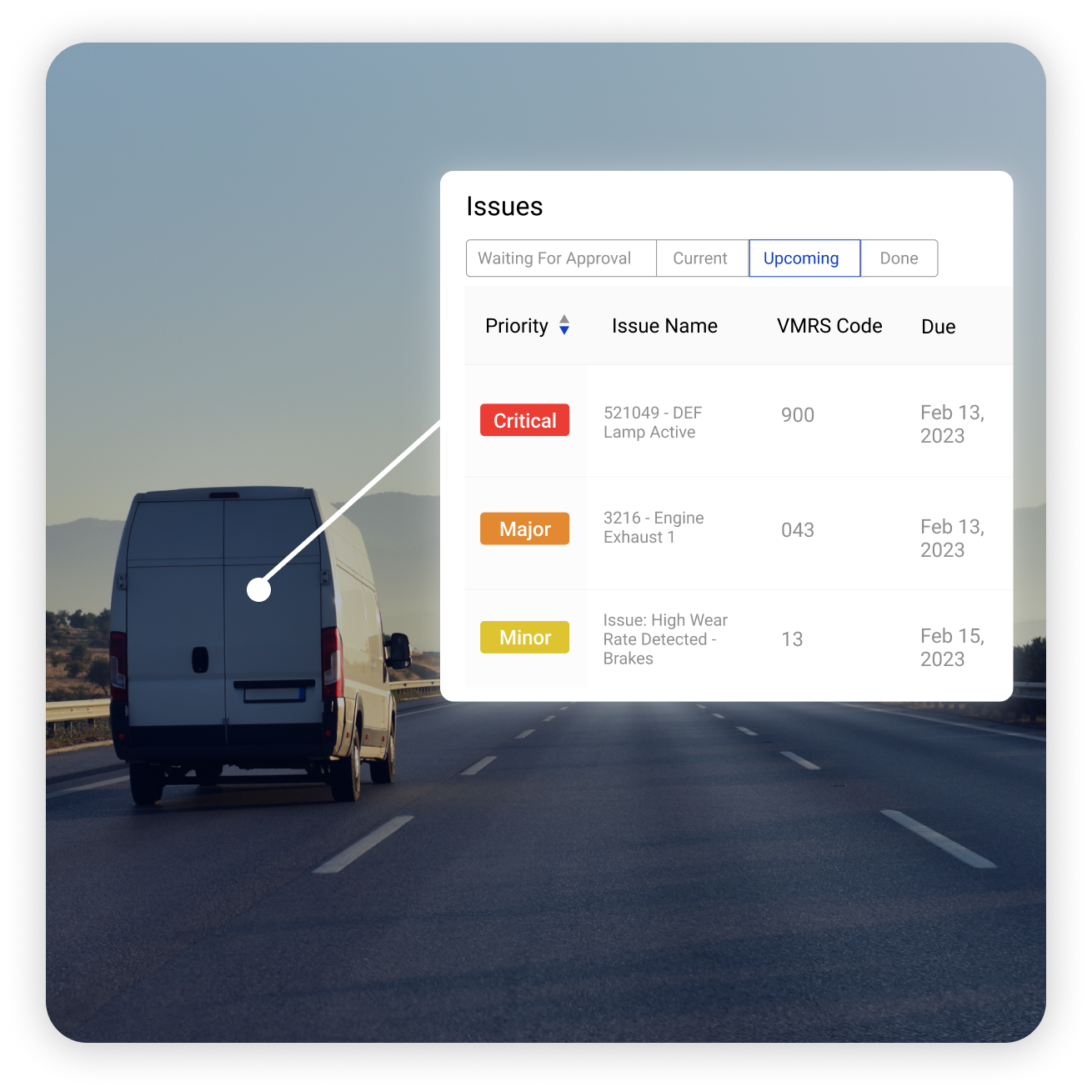 How Pitstop's Predictive Fleet Maintenance Feature Works
Pitstop uses the vehicle's real-time sensor data as well as other data points to analyze the current state of the vehicle and informs users of potential failures while prioritizing alerts, saving significant time and money.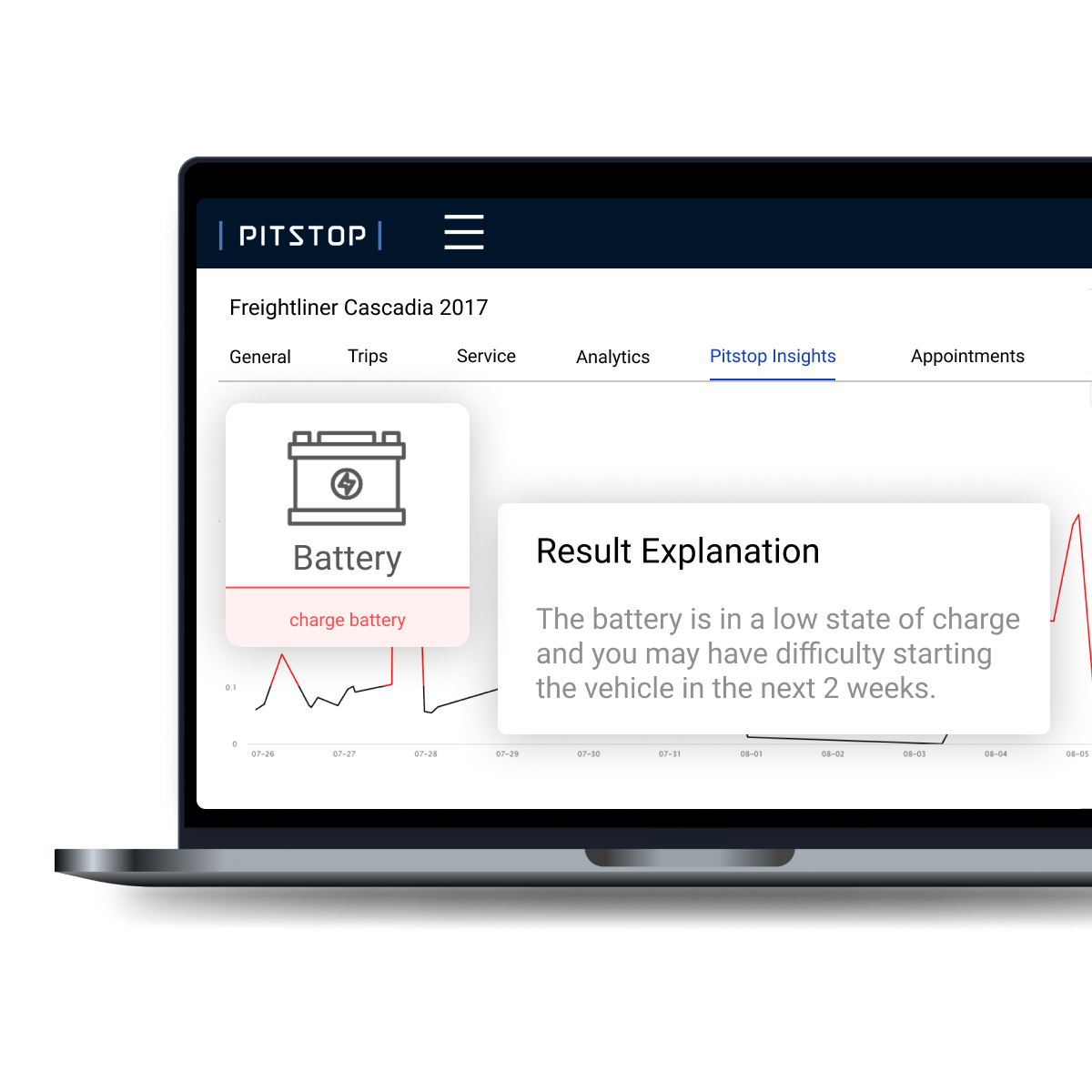 Powerful Data Insights
Millions of vehicle data points are processed daily in our ecosystem (ranging from sensor data, telematics, historical service reports, and more). Cut through the noise and focus on what matters with actionable insights.
Real-Time Alerts
Pitstop alerts you in real-time with customized reports so you can share them directly with your maintenance team.
Always Improving
As your trucks continue to drive on the road, Pitstop's AI engine continues in the background, getting smarter with every data point analyzed and prediction alerted.
Benefits of Predictive Maintenance in Fleet Management
The ultimate goal of predictive maintenance is to get the most out of your fleet and more specifically individual trucks.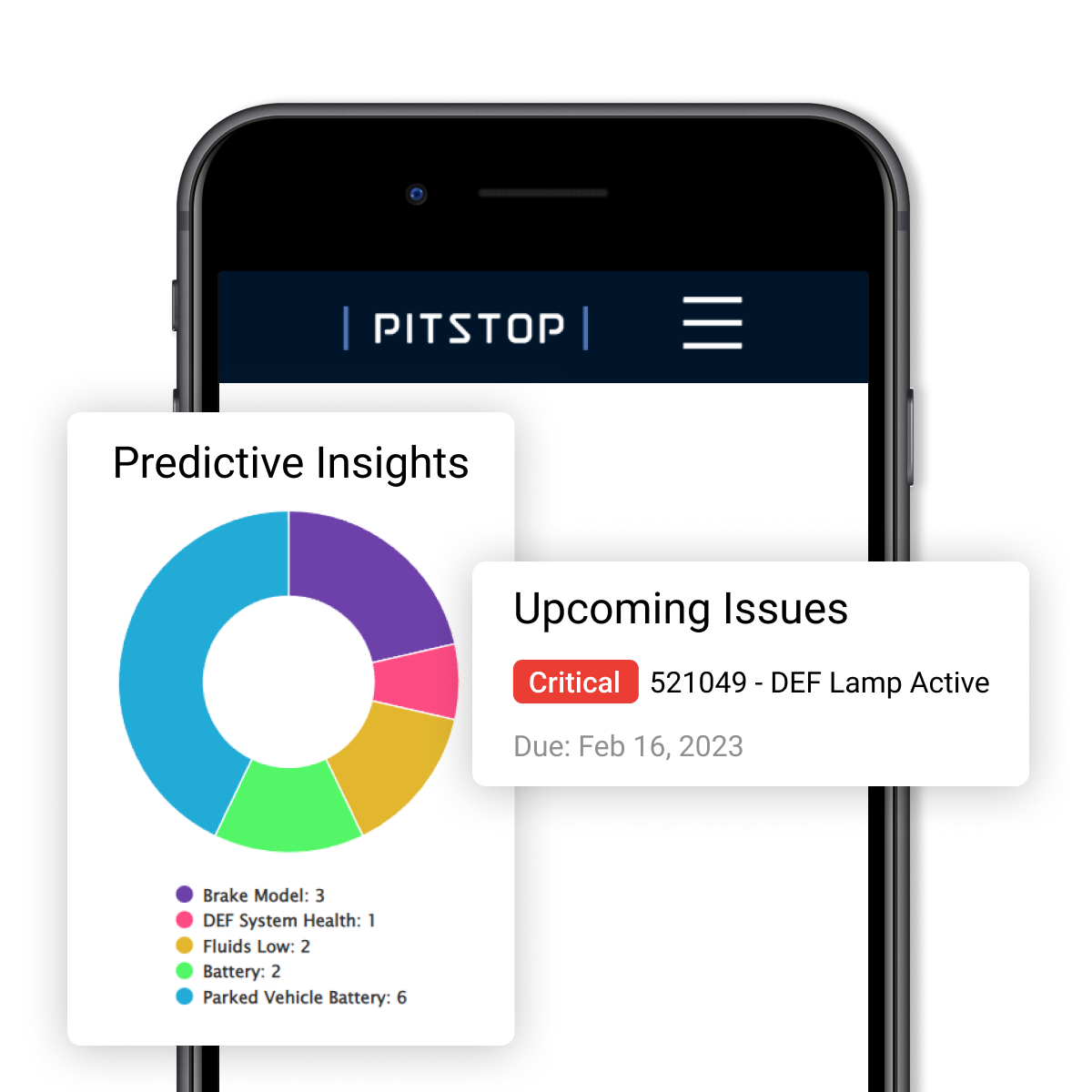 Reduce Downtime
Decrease your fleet downtime by up to 25% by prioritizing your vehicles in the shop.
Significant Savings
Savings up to $2000/vehicle per year. No longer will unexpected downtime lead to profit loss! Increase the mobility of your fleet while decreasing maintenance expenses.
Data-Driven Decision Making
Stop the guesswork in vehicle data and let the software work for you.
End-to-End Communication
Improve driver communication and retention with real-time alerts and in-app chat features.
Improve Part Planning
Avoid part and technician shortages by getting ahead of ordering weeks in advance.
Smart Maintenance Scheduling
A static preventative maintenance schedule can lead to over-maintenance vehicles. Focus on what matters with predictive analytics and turn your static schedule into a dynamic one.
Client Testimonial
"[Pitstop's] Predictive Fleet Maintenance allowed us to see where we can move equipment and vehicles from areas of high use to areas of low use to better balance the fleet and maximize the useful life of the asset."
– Paul Lagerwerf, Fleet & Equipment Director at NPL Canada
Browse Pitstop's Other Features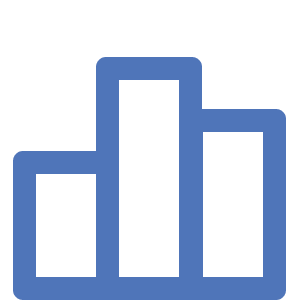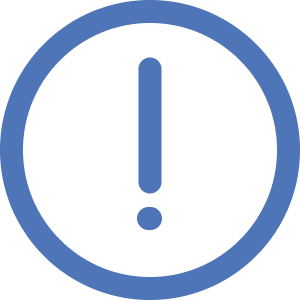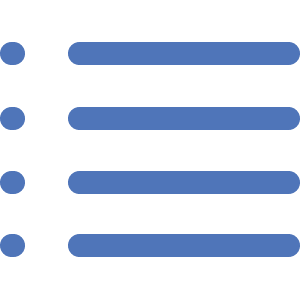 Are you looking for ways to get ahead of downtime while avoiding data overload?