Simplifying Parts Management for Effortless Work Orders
Maintenance costs alone represent 9% of a fleet's budget, and the cost of replacement parts is a substantial contributor to this expense with it set to increase by 3.5% this year according to MacKay & Co. Fleets must be prepared to allocate more resources to parts procurement, making it essential to optimize the management of these resources. Experts recommend adopting digitized management practices with high visibility due to the wide array of parts available from various suppliers, especially for mixed-vehicle fleets.
That's why we've introduced the Parts Management feature, designed to bring efficiency and clarity to your operations.
Now, picture this situation: mid-sized fleets ranging from 100 to 500 vehicles struggling to efficiently handle their parts and inventory. They find themselves trying to manage multiple software platforms, resulting in data silos, transparency issues across different locations, and a frustrating dependence on paper or Excel spreadsheets to track parts. Creating work orders often involves manual data entry, which is prone to errors. Moreover, fleet and shop managers frequently lack visibility into the parts they need until it's too late.
Our new Parts Management feature simplifies parts management within Pitstop with essential attributes, including (some features launching soon):
Part number

Part description/name

Price

Category

Location (coming soon)

Quantity (coming soon)

Inventory (coming soon)

Warranties

(coming soon)
Creating work orders is now effortless. You can quickly select and add parts right from the work order screen itself, making your workflow seamless and efficient.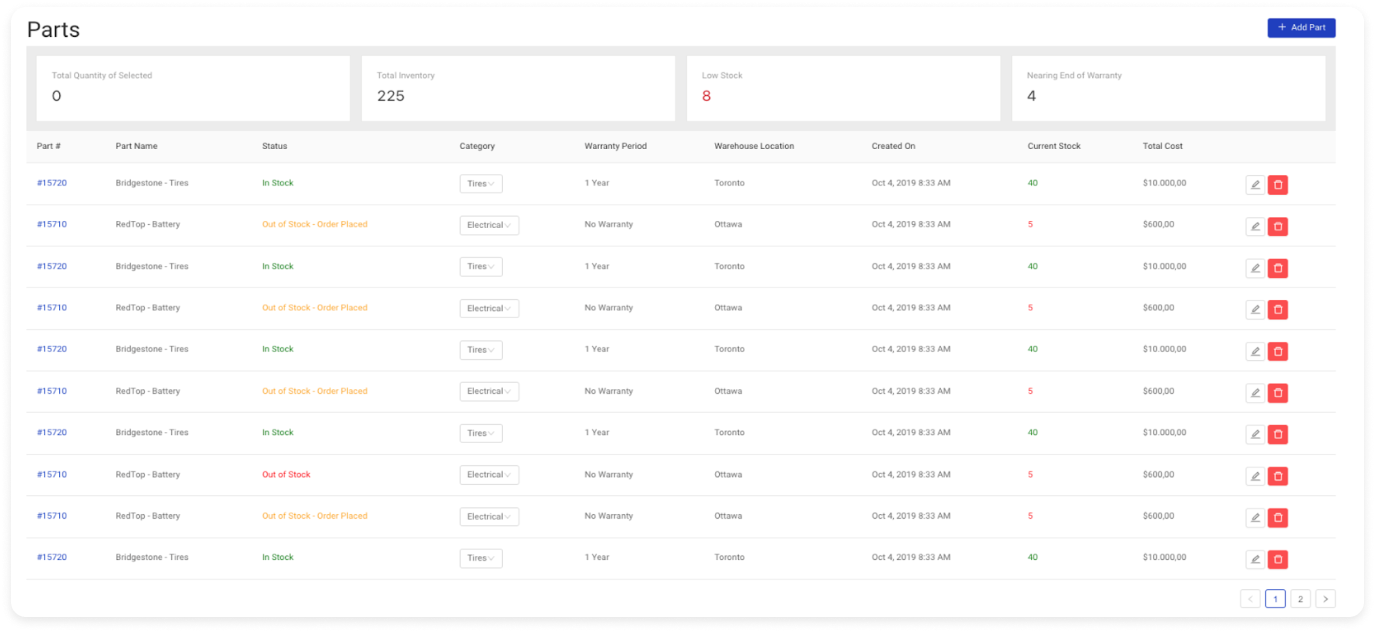 This update brings a wealth of benefits to all user groups within your organization:
Streamlined Parts Tracking:

Centralize parts and inventory management, promoting transparency across multiple shop locations.

Proactive Inventory Management:

Stay ahead of inventory needs, order critical parts in advance, and prioritize efficiency in-shop visits.

Effortless Warranty Tracking:

Easily manage warranties for your parts, ensuring you never miss out on claims.

Comprehensive Reporting Metrics:

Gain insights into your parts and inventory with robust reporting metrics, empowering data-driven decisions.
If you currently manage parts using Excel sheets, our import feature ensures a seamless transition. It also caters to a wide range of users allowing cross-functional visibility, including Shop Managers, Fleet Managers, Mechanics, and anyone involved in day-to-day fleet operations.
At Pitstop, we're dedicated to simplifying your tasks, automating the mundane, and providing you with the tools you need to excel in your role. With the Parts Management feature, along with our predictive analytics, you'll be better equipped to maintain your fleet, optimize costs, and deliver top-notch service to your customers.
Want to see these features in action? Reach out to sales@pitstopconnect.com or book a demo.
About the Author
Vedant Khattar is the Chief Technology Officer for Pitstop, a powerful predictive maintenance software for the transportation and automotive industry.