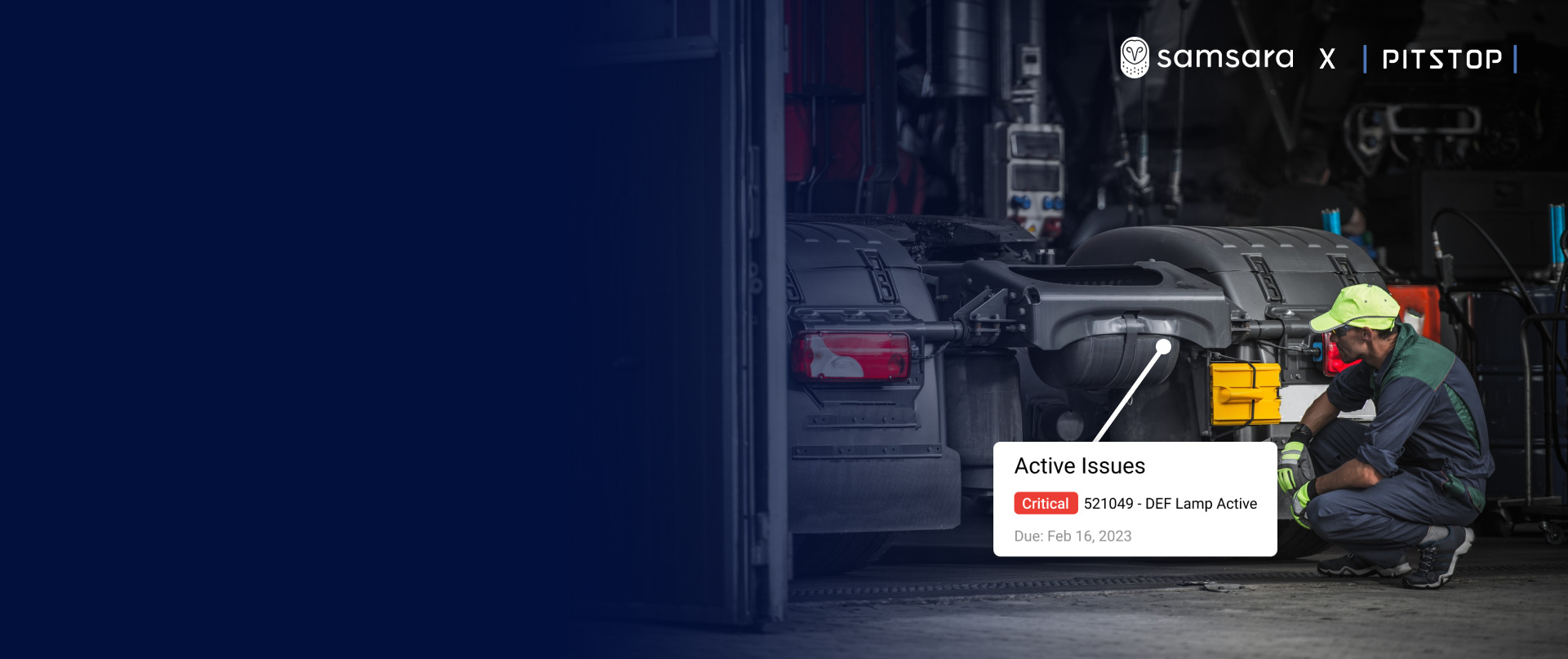 Webinar Recap: Overhauling Fleet Maintenance with Samsara and Pitstop
Improving Fleet Maintenance with Connected Solutions
In the recent "Overhauling Fleet Maintenance with Samsara and Pitstop" webinar, industry experts gathered to discuss the evolving challenges in fleet operations and share valuable insights on overcoming these obstacles. As fleet managers grapple with increasingly complex regulations, supply-demand gaps, and an aging vehicle pool, the need for innovative solutions to optimize maintenance and improve efficiency has never been more critical. 
This blog is a recap of the key takeaways from the webinar, exploring how the combination of Samsara's powerful telematics platform and Pitstop's predictive maintenance platform expertise can revolutionize fleet maintenance and help managers navigate this rapidly changing landscape.
Industry Challenges
Navigating an Increasingly Complex Fleet Operations Landscape
Over the past few years, the fleet operations industry has faced numerous challenges and increased complexity. New regulations introduced in 2017 have made conducting business in this sector progressively more intricate. Fleet managers now contend with various factors beyond their control, including inflation and a significant supply-demand gap affecting all levels of fleet management. From the shop floor to operations management, shortages in drivers, parts, and vehicles have strained resources. Consequently, the average cost of managing and running a fleet has risen, driven by the increased expense of operating commercial vehicles in North America and worldwide.
Managing Aging Fleets and Supply Shortages in a Challenging Environment
Compounding these issues, the average age of vehicles in the industry has grown. These force fleet managers to maintain them for longer periods due to difficulties in acquiring new vehicles from original equipment manufacturers (OEMs). Furthermore, there are notable parts and supply shortages among aftermarket parts suppliers and even OEMs. As a result, fleet managers face a myriad of challenges that they cannot manage alone. They are facing an overwhelming amount of data and problems that are beyond their control. This requires the implementation of new tools and practices to proactively and efficiently manage their fleets.
The Fleet Operations Dilemma: Data Overload
The Fleet Operations Dilemma arises from the need to integrate multiple systems for effective equipment maintenance. Fleets usually utilize work order maintenance management systems, telematics for vehicle health information, and diagnostic repair guides for maintenance support. With the growing amount of data and diagnostic trouble codes available, fleet managers can easily become overwhelmed. This is where predictive fleet maintenance plays a crucial role.
"This massive amount of data across the fleet can be overwhelming, and as an industry, there is a need to interpret [it]… The answer is AI and predictive analytics… Just a single breakdown prevention can have a large cost avoidance impact on both maintenance and operations," says Jon White, Industry Expert and President of Jon White Inc.
Overcoming Data Overload with Samsara x Pitstop
Predictive fleet maintenance analytics and AI offer a solution to this dilemma by streamlining data management and providing actionable insights. Pitstop is a central hub, managing data flow from work orders, telematic systems, operational information, and maintenance information. Integrating Samsara vehicle data and telematics with Pitstop's predictive analytics helps mitigate the Fleet Operations Dilemma caused by data overload. 
Pitstop can identify and filter out irrelevant fault codes, providing prioritized information to fleet managers and mechanics. This enables them to minimize downtime, prioritize repairs based on fleet profiles, and prevent breakdowns by monitoring high-priority vehicles. By harnessing the power of predictive fleet maintenance, fleet managers can effectively navigate the challenges of data overload and optimize fleet management processes.
Predictive Fleet Maintenance Case Studies
Case Study 1: Pitstop x Samsara Solution Delivers $2,000 ROI per Vehicle to a Beverage Distribution Fleet
In the first case study, Pitstop worked with a heavy-duty fleet in the United States for over a year. This fleet consisted of 120 vehicles serving approximately 6,000 retail operations, functioning as both a retail and beverage fleet. They faced numerous challenges, such as a need for more technology for managing maintenance and insufficient access to the correct data. By implementing Pitstop's technology, the fleet could automate its maintenance processes, centralize data into a single platform, and significantly improve productivity, maintenance, and compliance.
As a result, the company realized a full return on investment (ROI) of about $2,000 per vehicle per year. In addition, the value they saw was immediate, as they proactively identified and addressed potential vehicle failures, avoiding costly breakdowns and missed customer commitments. Read the entire case study here.
Case Study 2: Enhancing Enterprise Fleet Maintenance, Saving $18,582 with Dynamic Scheduling
The second case study focused on a substantially larger national fleet, comprising nearly 8,000 vehicles operating across the United States. This diverse field services fleet included a variety of vehicle makes and models, each customized to suit different business units and regions. Pitstop conducted a comprehensive analysis of the entire fleet and accurately predicted 24 breakdowns averaging nine days in advance. The result; was savings of $18,582 within a mere two months of the pilot involving 500 vehicles. In addition, leveraging Pitstop's enterprise fleet maintenance technology, the fleet implemented a dynamic, AI-driven responsive scheduling system, which provided recommendations for enhancing their preventative maintenance (PM) cycles, traditionally based on mileage. In conclusion, this adaptability proved instrumental in managing the complexity and streamlining the operations of the extensive, varied fleet.
Embracing the Power of Partnership for Enhanced Fleet Efficiency
In conclusion, the volume of data generated by vehicles continues to grow exponentially. Leveraging AI and predictive maintenance analytics becomes essential for fleet managers to manage this influx of information. Pitstop and Samsara's partnership provides the perfect solution for interpreting trillions of data points and delivering accurate insights that can save fleets time and money.