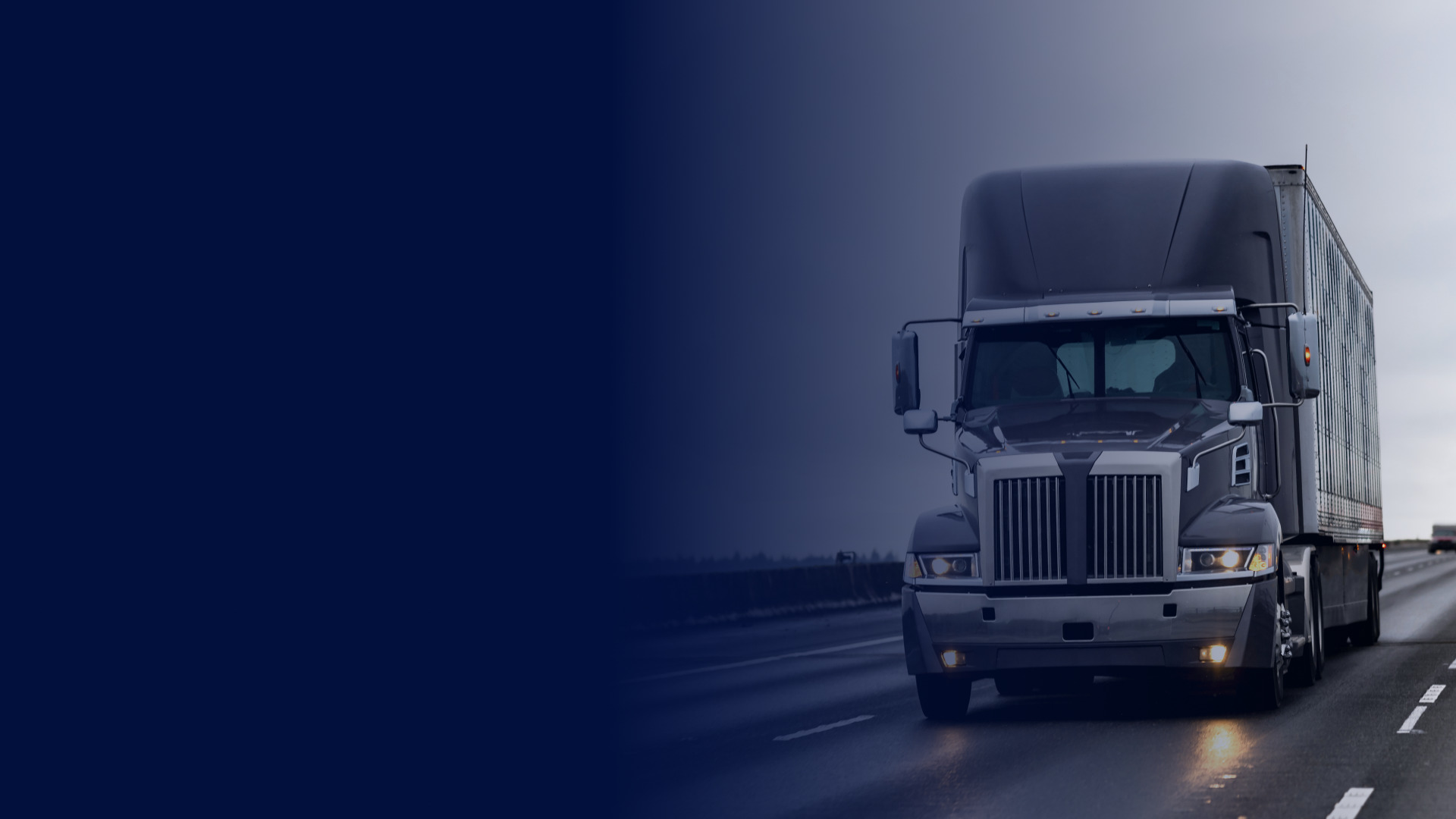 Top Fleet Trends to Lookout For in 2023
What are the emerging trends in the fleet management industry?
We had all hoped that 2022 would usher in return to the old ways, but it became clear fairly early into the year that businesses, regardless of industry, would need to continue adapting to this "new normal." Ensuring ongoing mobility of fleet assets is a necessity now more than ever in navigating an unreliable supply network. It leaves many fleet professionals wishing the unexpected could've been predicted.
Here are my five predictions of 2023 fleet management industry trends that will impact business operations based on conversations through user interviews, conferences, and listening to the general "buzz" in the industry. And with the improvement of fleet technology and systems, organizations can start to meet those shifting needs.
1. Safety & Technology
Commercial fleets are increasingly using in-vehicle infotainment systems. Infotainment systems provide drivers with information and entertainment, offering navigation, music, phone, and even video gaming solutions through OEM in-house development or partnerships with technology providers. The benefit of this is that many drivers have expressed interest in these features, which could lead to increased driver retention in the transportation industry.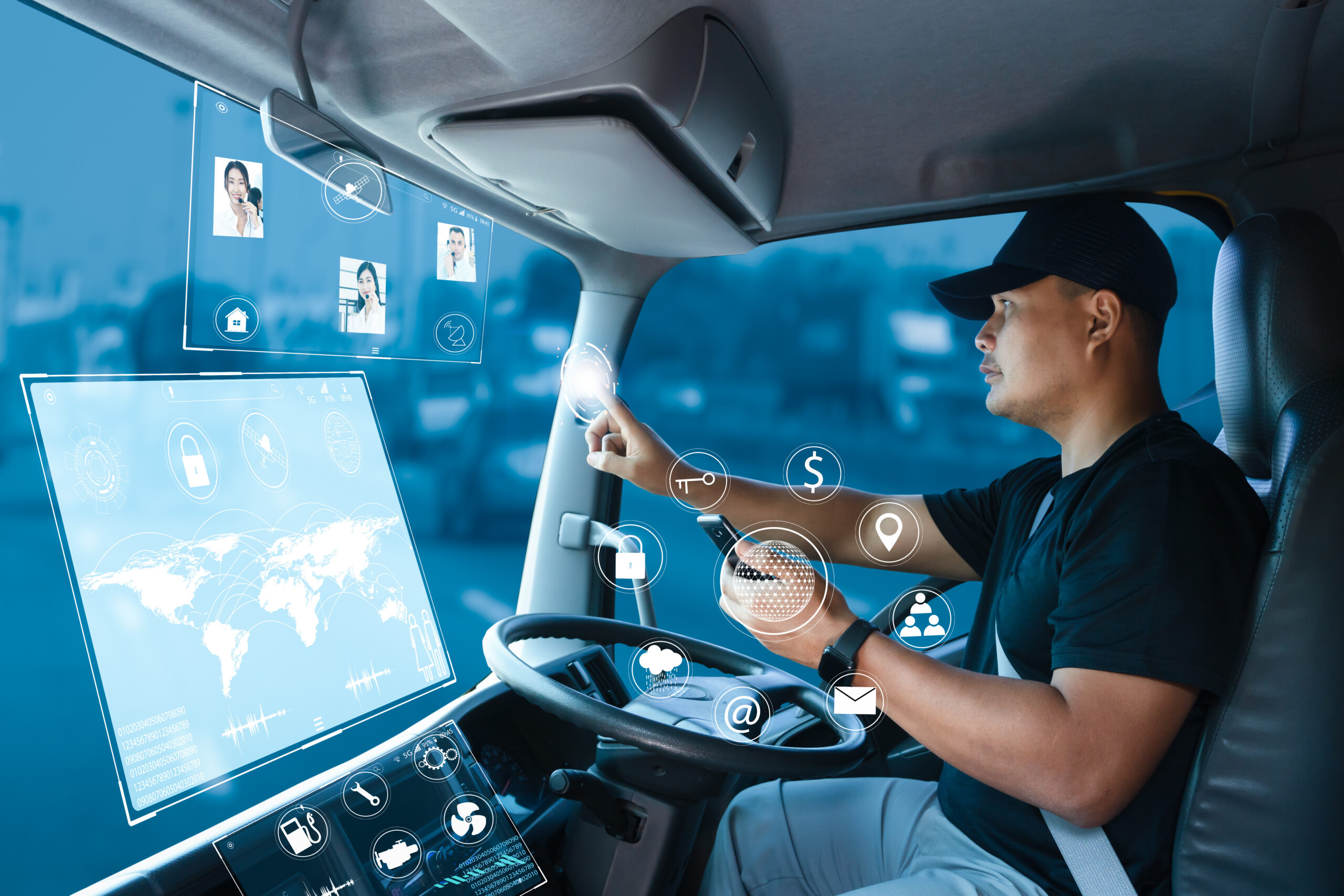 Fleet managers will have to develop safety standards to keep drivers and other road users safe because OEMs will start installing them in more locations. However, a benefit of these features is that many drivers have expressed interest in them, which may increase driver retention in the transportation sector.
2. Maintenance & Repair
According to recent research from S&P Global Mobility, the average age of vehicles in the US has risen for five years running, with this year's average age representing another record high of 12.2 years. The driving force behind the gradual increase in average age is attributed to the continuous impact of supply chain restrictions, which has resulted in a decline in vehicle scrappage. Since they can't get their vehicles for a year or two out, some fleet managers may also be holding off until they can support an electric vehicle (EV) fleet.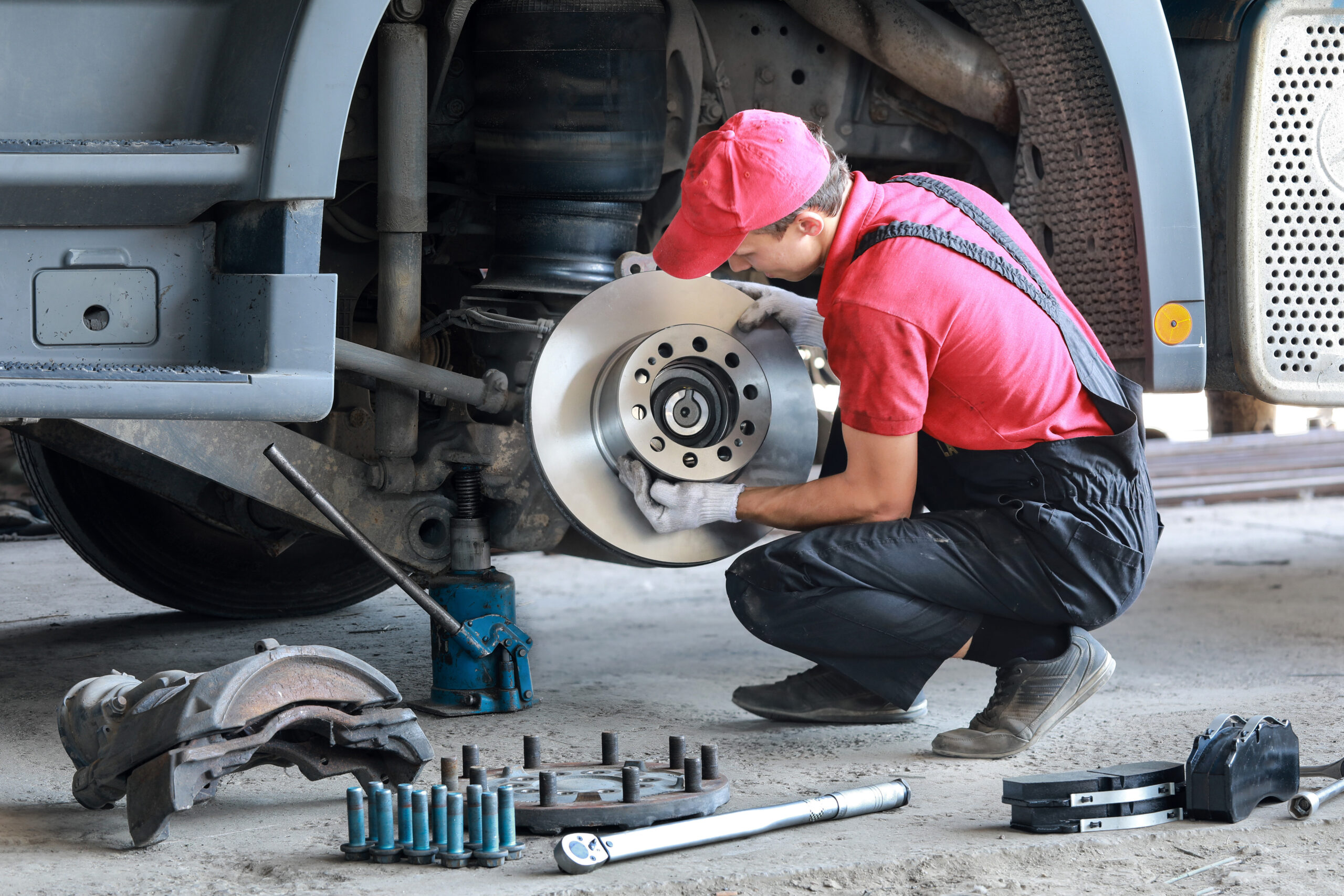 In addition to vehicle supply shortages, we continually face maintenance labor shortages. The industry will have to shift to be more inclusive to women, which is key to replenishing the technician labor population.
These maintenance trends show the potential for a significant increase in repair costs and more extended downtime in the upcoming year. New Telematics/IoT capabilities will help fleets become more efficient, offsetting the rising maintenance costs. A significant barrier to adopting telematics is that it's complex or time-consuming to implement. However, these are simply misconceptions.
3. Data Management
The trucking industry is working to standardize future connections as more data is shared between trucks and trailers. It is no question that fleet managers are bombarded with data. And with the evolving smart trailer landscape, even more, is on the way. Smart trailer components such as embedded wheel ends, suspensions, brakes, lamps, weight, cargo, temperature, doors, tethered status, and much more. 
The trailer can successfully communicate with tractor drivers as well as with the home office, the Cloud, repair facilities, and anybody else who needs to get this information through the use of these smart sensors. Fleets can use actionable analytics to assist them in making better decisions when the data is presented in a useful way.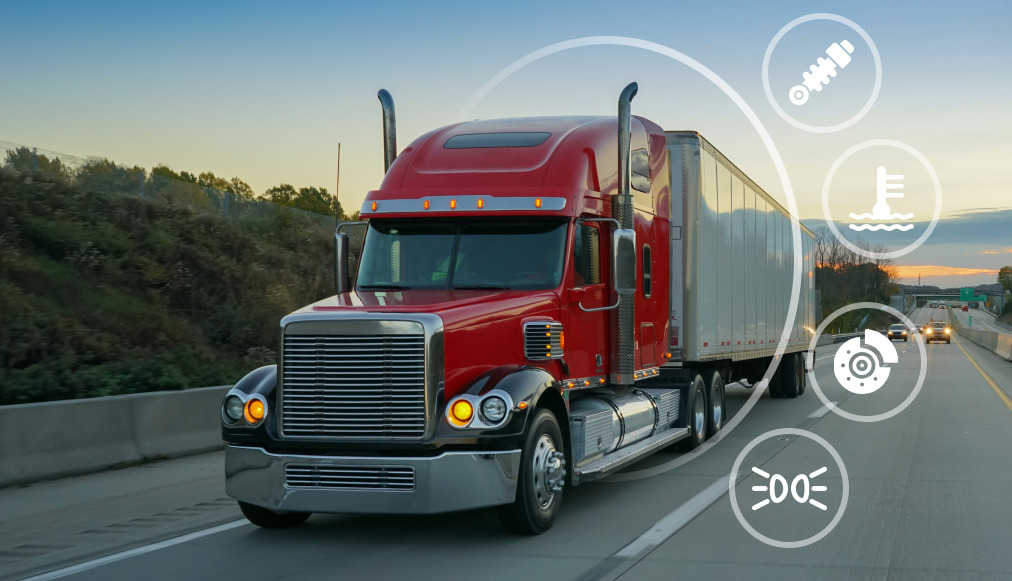 Smart trailers are high-tech products designed to keep drivers safe while reducing extra work and troubleshooting. Although these smart assets are highly beneficial, staying on top of what information is important requires constant analysis through excessive amounts of data, raising concerns about data overload.
4. Improvement in Communication
Truck platooning is another automotive industry trend that will become more prevalent in 2023. Truck platooning is when multiple trucks use vehicle-to-vehicle communication to drive closely behind each other at high speeds to reduce air drag. This method of transportation will become more common in 2023 and beyond, as research has shown that driving in this formation significantly increases fuel efficiency. 
Tight coordination during the trip comes down to efficient end-to-end communication. Truck platooning systems will benefit from an integrated solution that communicates the component health information between technicians, drivers, and fleet managers. It's less likely that a potential problem will slip through the cracks if you communicate issues like tires, brakes, and fluid to each party at all times.
5. Predictive Maintenance
In its most basic form, predictive maintenance uses real-time, customized telematics data to identify vehicle or truck failures before they occur across all Class 1-8 vehicles.
A predictive maintenance platform analyzes hundreds of thousands of vehicle data points, such as sensor data, driver usage, and other factors, and learns from analyzing vehicles across all asset classes to identify patterns that have previously led to different failures. It then notifies the fleet manager in real time of a potential failure weeks before it occurs. No analyst is needed.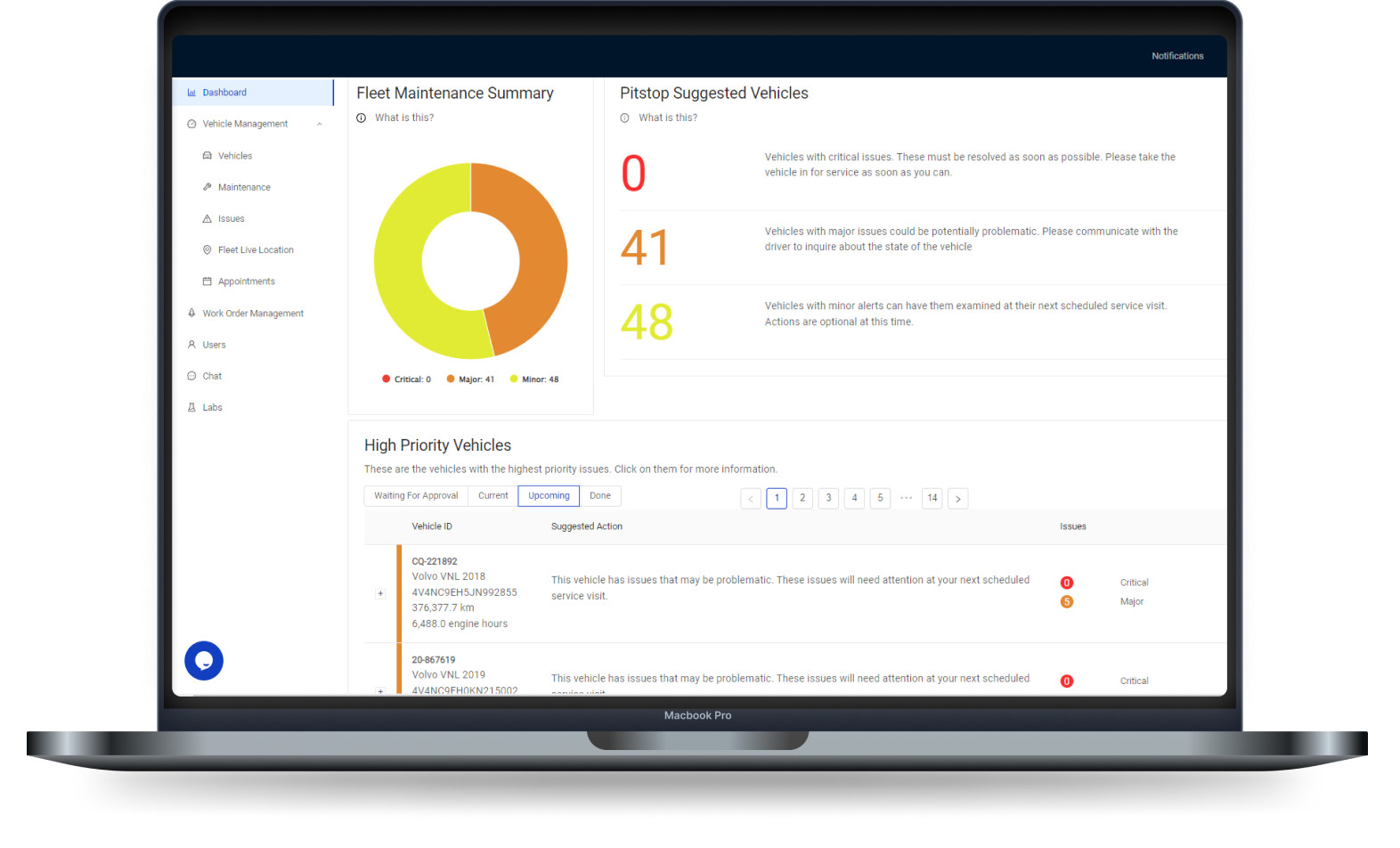 Partnering with fleet software like Pitstop cleans the messy, raw data and turns it into actionable insights. For example, its predictive maintenance solution organizes and alerts fleet managers based on high-priority fault code issues to reduce unnecessary noise. As a result, issues can be prioritized, allowing fleet managers to plan maintenance visits more strategically.
What's Next?
The fleet management industry is continuously evolving. Fleets should prepare for a number of changes to strategy, operations, and technology in 2023. If you're looking to gain confidence and predict the unexpected, request a demo with Pitstop.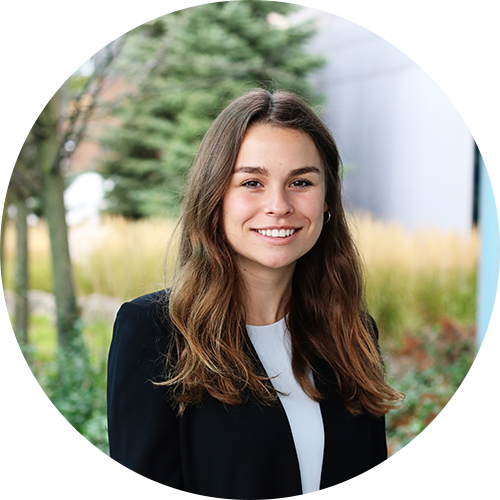 About the Author
Leah Van Rooyen is the Marketing Coordinator for Pitstop, a powerful predictive maintenance software for the transportation and automotive industry.