Product Update: Build Vehicle Service Histories with Work Order Management
Complete the feedback loop by creating and tracking work orders
Pitstop is committed to helping fleet managers gain valuable insights across their operations. We are constantly learning from what is happening in the field and now have built a way for fleet managers to capture this information directly into the product.
Creating work orders is an integral part of fleet maintenance software. Once a problem has been identified on a fleet vehicle, the next step for a fleet manager is to create and assign the work order. The fleet manager authorizes the work that needs to be done and then shares it with the technician who is responsible for working on the actual maintenance. 
Work order software enables you to plan, schedule, and carry out fleet maintenance from beginning to end, while unifying data for accurate maintenance reporting and predictive analytics. Furthermore, work order software simplifies the fleet maintenance process by producing work orders and tracking service, allowing you to spend less time on paperwork and more time on critical duties.
Streamline maintenance and repair workflows
Pitstop has added a new module – work order management where fleet managers can create work orders, view existing work orders and keep track of ongoing work orders. The fleet manager can update the work order status to one of the following: Open, Pending, In Progress, Blocked for Parts, Waiting for Approval, and Resolved. 
Example of the work order management module – View All Work orders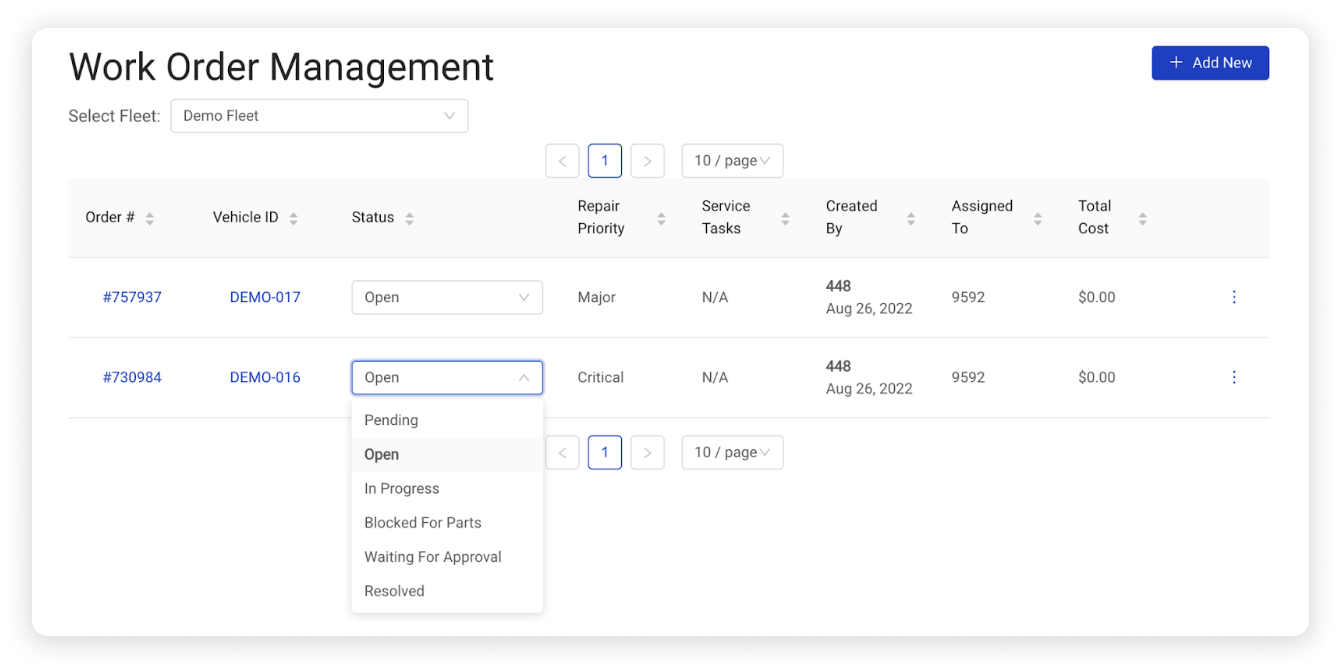 When creating the work order there are two main components that the fleet manager needs to fill in – the work order header and the work order line. For the work order header, the fleet manager can assign various other useful fields Repair Type (Breakdown, Driver Reports, PM, Inspection, custom reason), Repair Priority (Critical, Major, Minor), Report date, work order start, and completion date.
Example of the work order management – Creating Work order (1)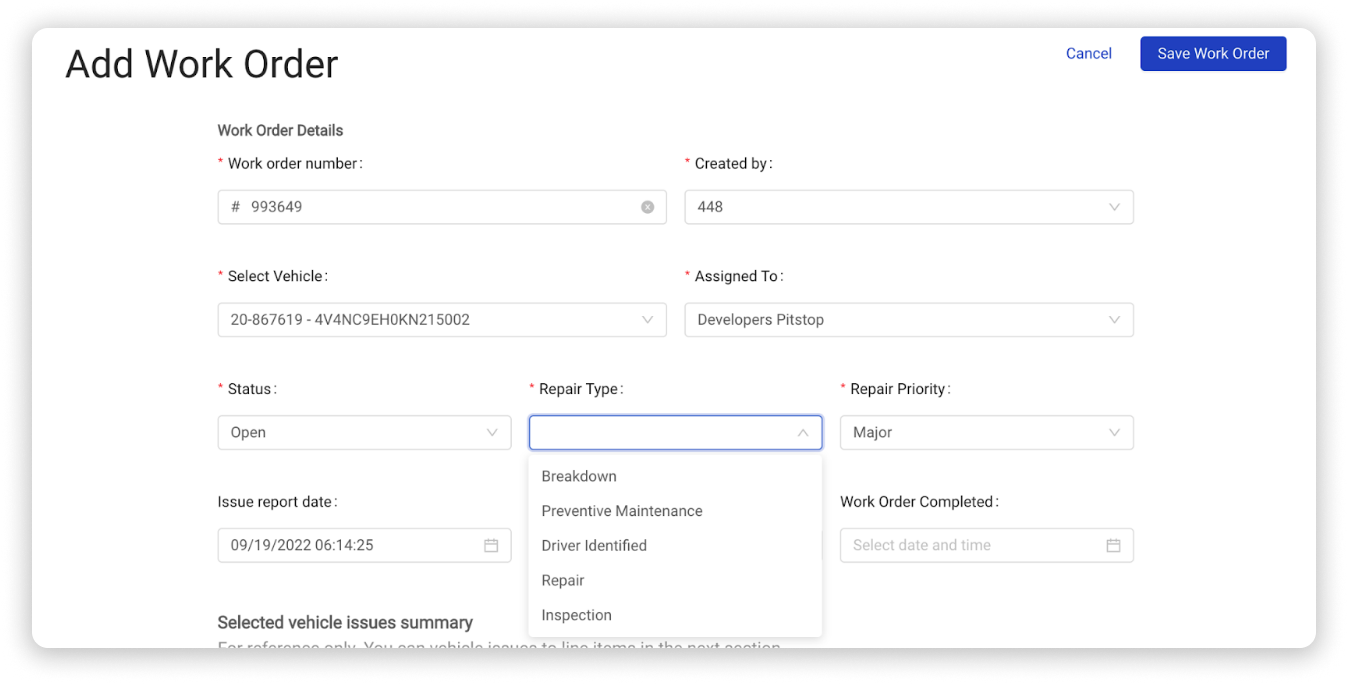 Pitstop has made a lot of effort into simplifying the process of filling out the work orders. When a fleet manager selects a vehicle, they can see the summary of all issues on the vehicles and how important those issues are, and if they will lead to a failure. With this feature, fleet managers no longer need to sort through spreadsheets and stay organized by tracking service work and properly analyzing operating expenses with work order software. The fleet manager can then easily link existing services on the vehicle to the work order line. The work order line can then be modified once the work is performed to fill in other fields the actual work performed, labor cost, and parts cost.
Example of the work order management – Creating a work order (2)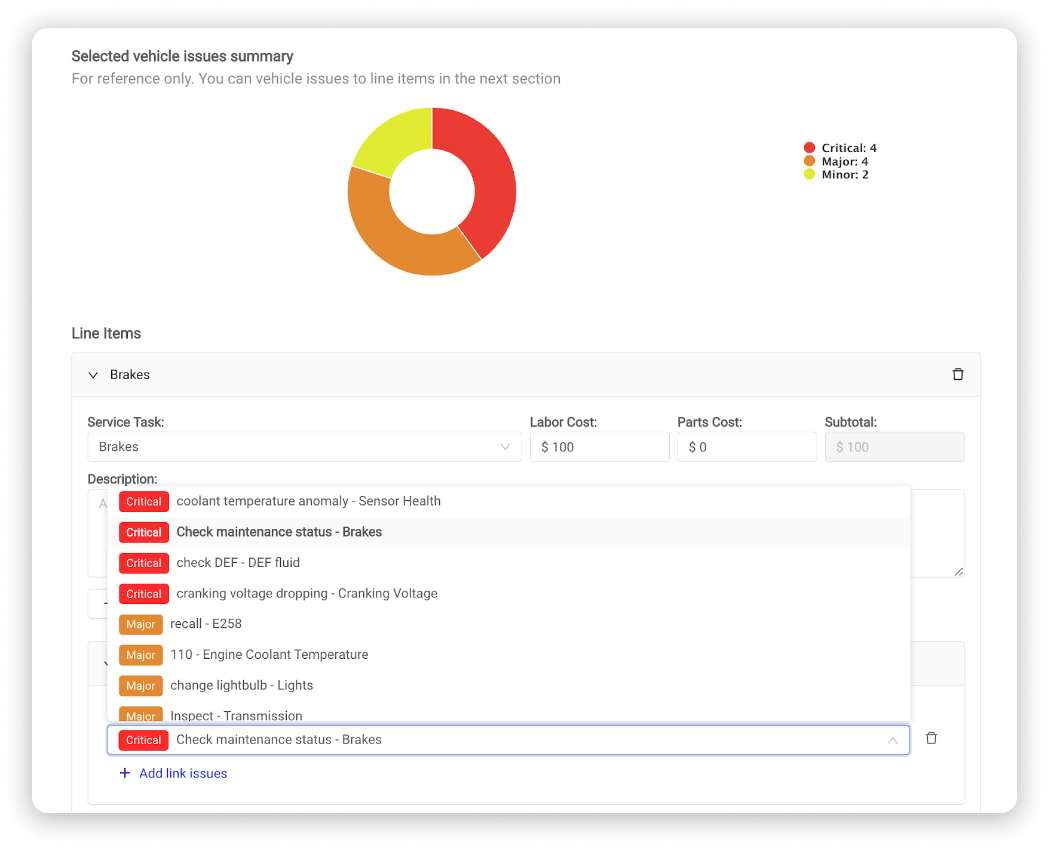 The power of predictive and work order management – all in one place! 
Pitstop uses the work order data in the background to continuously learn about your fleet and analyze why the vehicle went in for service. Pitstop generates reports around the total downtime and cost incurred to the fleet and how Pitstop could have reduced the breakdowns by leveraging our predictive alerts ahead of time. Pitstop's AI flywheel also continues to learn from the work order data and improves the prioritization of alerts in case the alerts were missed. 
Example of work order management reporting – Fleet Downtime Savings with Pitstop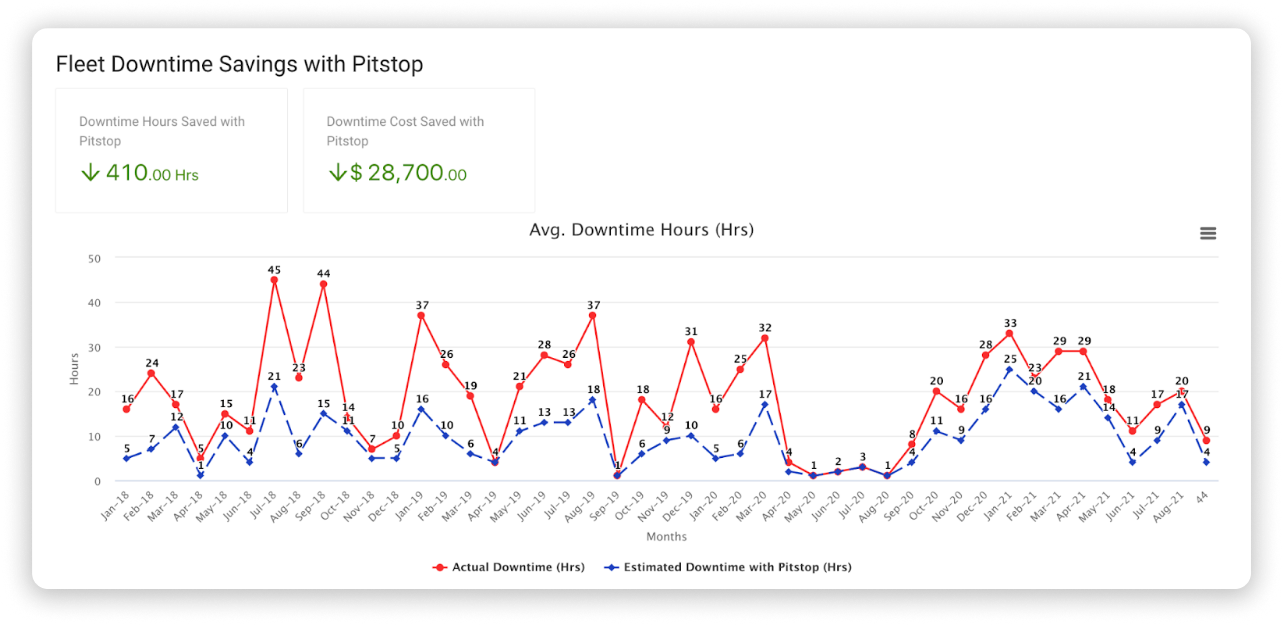 This new tool is now available to all clients for those who are interested. Contact our team (or visit pitstopconnect.com/book-a-demo) to learn more about how Pitstop's fleet maintenance software can improve the safety, efficiency, and economy of your operations.